If you've been asked to undergo a urine drug test for a potential employer or as a part of a periodic company-wide screening, you may be looking for more information about urine toxicology testing. Most media dramatizes urine testing for intrigue, and it can seem like only criminals or drug abusers are asked or required to take drug tests, so we're here to destigmatize drug tests and explain them to the average person.
In this blog, we'll explain where to get a urine drug test, why your employer may require one, and what urine screenings test for. 

What is a Urine Test?
A urine test is one of three common kinds of drug screenings that identify the presence of illicit drugs in one's system. Urine tests are the most popular of the common tests because of their rapid result turnaround time.
Despite popular media representations, there are many reasons why you may need a urine drug test. If you work for or have applied to a drug-free workplace, you may be asked to undergo urine testing as part of your pre-employment procedures, upon returning to work after a worker's compensation claim, after an accident at work, as a result of an employer's reasonable suspicion of drug use, or as part of a company's random drug testing program. Furthermore, if you are a government employee, you may have a job that is a testing-designated position, meaning that you can be sure to undergo random and pre-employment drug testing.
Specific positions that require heavy machine operation, like jobs within the U.S. Department of Transportation, may conduct more extensive drug tests. These tests will identify whether the patient is using any legal or prescription drugs that may impair their ability to operate heavy machinery.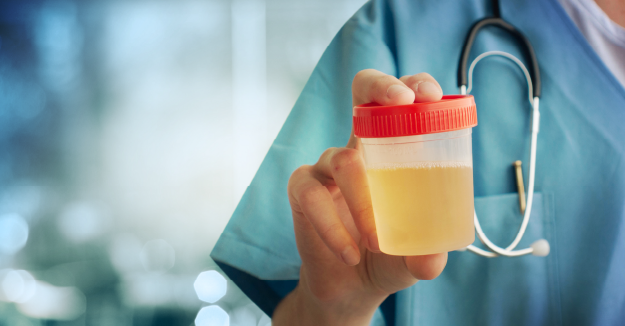 How is a Urine Test Conducted?
You will be asked to provide a urine sample while in the testing center during a urine test. Because this needs to be done during the time of your testing appointment, you may be asked to remove any excess items of clothing, such as jackets or hats, and empty your pockets prior to sample collection to ensure that you have not brought a sample into the center.
You will need to provide at least 30 mL of urine for a typical drug test, but the U.S. Department of Transportation test requires a sample size of 45 mL. 

What do Urine Screenings Test For?
There are a few different screenings that test for different amounts of drugs. The most common tests are 5- and 10-panel tests, which differ only in amount—that means that the five types of drugs in the 5-panel test will be included in the 10-panel test, and they will not be different. 
Here are the ten most common types of drugs that a urine drug screen may identify: 
Amphetamines (including methamphetamine)

Barbiturates

Benzodiazepines

Cocaine

Methadone

Methaqualone

Opioids (including heroin)

Phencyclidine (PCP)

Propoxyphene

Tetrahydrocannabinol (THC) 
Your urine drug test results will be analyzed and explained by a Medical Review Officer (MRO), who will likely provide the results directly to your employer. 
How to Prepare for a Urine Drug Test
Because you will need to provide 45 mL (about a shot glass's worth) of urine during your test, be sure not to use the restroom before your testing appointment. If you cannot provide enough urine for the test, you will be given three hours to drink enough liquid to provide a sufficient sample. However, this must be done within the collection center, as leaving the testing site will count as a refusal to test. 
If you take any prescribed or over-the-counter (OTC) medications, you should notify your MRO or collector of what drugs you are taking. This will help prevent false positives. If your test indicates that you have a prescription or OTC drug in your system and you have not notified your MRO in advance, it is likely that they will contact you for confirmation.
Finally, be sure to bring a valid government-issued picture ID and all authorization forms or paperwork from your employer to the collection center.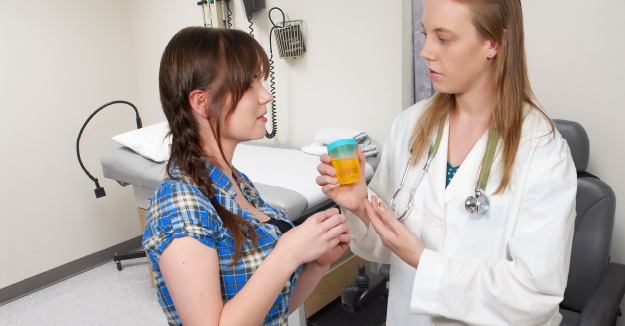 Where to Get a Urine Drug Test
At-Home Urine Tests
You may feel like an at-home urine test is the most convenient option to identify any drugs in your system. There are some benefits to using home urine test kits, such as the fact that the average home test shows results within five minutes, but there are some crucial things to consider before taking the home health care route for your drug test. 
Many at-home urine tests are less accurate than the screenings that will be conducted in a toxicology lab. Not only are false positives common, but it is also possible that a home urine test will show up negative even if the person tested is using drugs. Because of this, many employers and government agencies will not accept the results of a home test and will require that the test results be corroborated by a laboratory test. 
Urine Testing Labs
To ensure that your employer, probation officer, or government agency accepts your drug test results, go to a toxicology testing lab to take your urine test. Many laboratories and healthcare-providing facilities offer urinalysis and urine drug testing. 
Urine Drug Testing at OnPoint Lab
If you have been asked to complete a urine drug test for any reason, your best bet for accurate results is a toxicology lab with specialists dedicated to analyzing urine drug test results. OnPoint Lab is committed to providing precise results on time, every time, and we promise to provide unmatched customer service. 
As with any lab, please contact us with any questions and to ensure that our 59-panel urine toxicology screening tests for any particular substance that your employer requires.